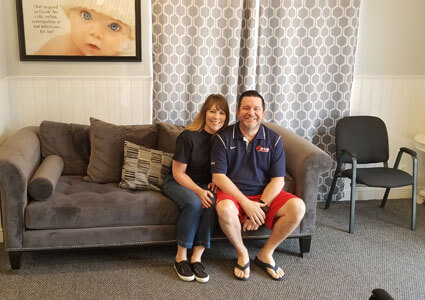 Wellness Center in Owasso
In addition to chiropractic care, Kirk Chiropractic & Wellness Center also offers access to a wellness center. Our wellness center includes digital thermography as well as massage therapy.
We want to help you get healthy and stay healthy as naturally as possible. Find out more about our wellness center and how it might help you live a happier, healthier life.
What Is It?
Unlike other scans, digital thermography utilizes an infrared camera to detect heat patterns and blood flow throughout body tissues. It is able to pick up on problems in the body long before many traditional medical examinations.
We are known for world class digital thermography. Holly Kirk, our digital thermographer, is certified through the American College of Clinical Thermographers (ACCT), to perform thermal imaging scans. She is committed to providing you with compassionate early-detection care.
Digital Thermography vs. Traditional Mammograms
Digital thermography is an increasingly popular alternative to mammograms. Rather than manually feeling for a lump in the chest, it electronically scans the body for physiological changes that might indicate a bigger issue.
If a tumor is growing inside the body, new blood vessels take over to supply that tumor with blood. This process produces excess heat, which can be easily seen using our thermal imaging camera. For this reason, digital thermography is able detect potential issues in the breasts up to eight years before traditional mammography.
While digital thermography is typically used in the place of or in addition to mammograms, we also offer full body scans to be sure that you are as healthy as can be.
We are here to provide you with a lasting solution to long-term health. For this reason, our practice works closely with a licensed massage therapist. With over 10 years of experience, she offers a variety of massage therapies, such as Swedish massage and deep tissue massage.
How Can Massage Therapy Help?
While chiropractic care focuses the nervous system, massage therapy specifically addresses issues related to the soft tissues of the body. Soft tissues include muscles, tendons, and ligaments.
Massage therapy not only improves comfort, but it also elongates the effects of chiropractic adjustments. For your chiropractic adjustment to hold as it should, it is important that the soft tissues of the body are also functioning at their best.
Schedule Your Appointment
Kirk Chiropractic & Wellness Center is here for you. We want to give you the thorough care that you need to live your best life. Contact us today to take advantage of our wellness center!
CONTACT US »
---
Wellness Center Owasso OK | (918) 272-6200