Meet Dr. Nathan Traylor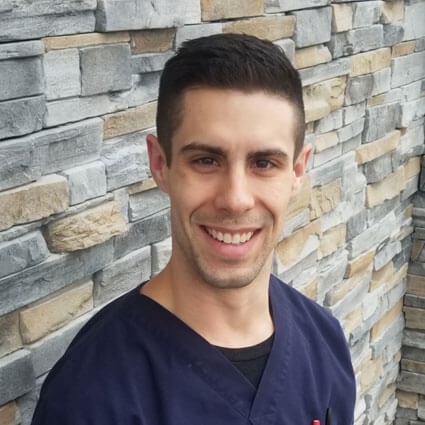 A native of Owasso, Dr. Traylor would see Dr. Kirk to get adjusted. Though Dr. Traylor originally studied to become an architect, something didn't sit right with him about pursuing a career in that field. He changed his major to premed and, at one point, had to interview someone in the medical area. Dr. Traylor chose to interview Dr. Kirk. After the meeting, Dr. Traylor thought, "I think I want to do that!"
Interestingly, there is a key parallel between architecture and chiropractic-they both focus on structure. It's just that chiropractic is all about the structure of the body versus a building.
Dr. Traylor graduated from Cleveland Chiropractic College in Kansas City, the same school that Dr. Kirk attended. Dr. Traylor earned his Doctor of Chiropractic in 2013. To stay abreast of the latest in the field, he attends various chiropractic seminars each year.
While Dr. Traylor cares for patients of all ages, he has a focus on prenatal and pediatric chiropractic care. He also specializes in adjusting the extremities.
One of Dr. Traylor's passions is helping people change what they think about their health. "I like to guide people toward not being afraid of getting sick or their body breaking down." He wants patients to know that if you take care of yourself, your body will respond well.
Dr. Traylor also seeks to help patients achieve their goals. Whether a patient wants to get out of pain, stop their child from crying or pick up their grandchild without discomfort, he wants to help.
Dr. Traylor's entire life has been geared toward caring for others the best way he can. He takes the time to get to know his patients and speak the language that they speak. From making eye contact and remembering their name to finding out about their family and jobs, Dr. Traylor wants to get to know each patient on a deeper level.
One of his patients is a woman who came in with her husband. The woman shared painful details from her childhood. Dr. Traylor connected with her and let her know that she matters. "I wanted to let her know that people are there for her and love her." He wants his patients to see that they have great worth.
Discovering the Body's Self-Healing Ability
When he came out of chiropractic college, Dr. Traylor was well-educated in the science behind chiropractic but also realized that the power that made the body heals the body.
I want people to know that the body is designed in a way that it's supposed to heal itself.
Enjoying a Full Life in Owasso
Outside the office, Dr. Traylor loves to spend time with his wife Hillary and their young daughter Lillianna. He adjusted his little girl eight minutes after her birth.
He also likes to play the guitar and board games, listen to podcasts, read books and listen to sermons. A lover of food, Dr. Traylor also enjoys cooking and baking. Spending time in the great outdoors is also a passion of his. He likes to camp and hike.
Contact Kirk Chiropractic & Wellness Center today to schedule an appointment with Dr. Traylor.
---
Dr. Nathan Traylor | (918) 272-6200