Meet Dr. Daren Kirk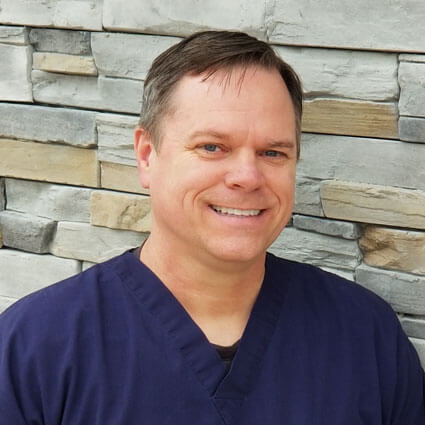 Dr. Daren Kirk has been practicing for more than 20 years. He graduated from Cleveland Chiropractic College in Kansas City and began working as a chiropractor shortly thereafter. Since the beginning of his chiropractic career, Dr. Kirk has been dedicated to helping his community live as happy and healthy as possible.
Dr. Kirk has your best interest at heart. Learn more about the doctor behind Kirk Chiropractic & Wellness Center and what he has to offer you and your loved ones.
Becoming A Chiropractor
Dr. Kirk became interested in chiropractic care after a high school basketball injury to his back left him unable to walk. Though a close friend recommended he go to the chiropractor, Dr. Kirk went to see his medical doctor and was sent to the hospital. Following one week of traction, pain medication, and diagnostic imaging, he still had no answer.
Fortunately, Dr. Kirk healed enough to return to living a relatively normal life. He irregularly suffered aches and pains, but nothing intense enough to keep him from doing the things he loved. Only two years later, Dr. Kirk reinjured his back while lifting a dresser out of the back of a pickup truck. This time, he decided to listen to his close friend and now wife – he made a trip to his local chiropractor and never looked back.
He knew he was destined to become a chiropractor and help others in the same way.
Lover of Learning
In addition to his Doctor of Chiropractic degree, Dr. Dirk has undergone several hours of specialty training. He has been part of a group called the Chiropractic Hand and Foot Clinic of America™ (CHFA™) for 10 years. The CHFA™ is a fellowship program that focuses specifically on extremity work.
Dr. Kirk is also certified through the International Chiropractic Pediatric Association (ICPA) in both prenatal and pediatric care. He is certified in the Webster Technique, which is designed for expectant mothers and their unborn children. Dr. Kirk is also trained to gently adjust small children.
EXPLORE CHIROPRACTIC »
Outside the Practice
When Dr. Kirk is not busy at Kirk Chiropractic & Wellness Center, he enjoys spending time with his family. He, his wife, and three sons often play games and watch movies together. Dr. Kirk also loves all things sports-related and has recently been prioritizing travel and adventure.
Dr. Kirk likes to say that he wears his chiropractic hat forward during the work week and backward on the weekends. He never takes it off, always trying to help his family and his community live happier, healthier lives. If you have been looking for a chiropractor with your best interest at heart – you have come to the right place!
Contact our practice to learn more and get in to see us.
---
Dr. Daren Kirk | (918) 272-6200