Pregnancy Chiropractic in Owasso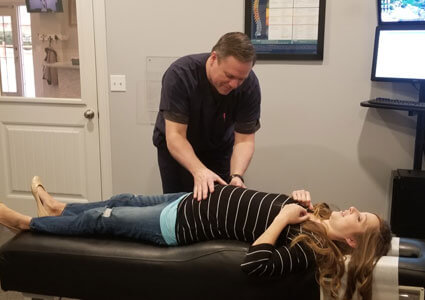 Chiropractic care is a safe and natural solution to the aches and pains that often come with pregnancy. It not only helps pregnant women feel more comfortable while pregnant, but it also encourages smoother labors and deliveries.
Here at Kirk Chiropractic & Wellness Center, we specialize in prenatal chiropractic care. Dr. Kirk is certified through the International Chiropractic Pediatric Association (ICPA) to provide expectant mothers – and in turn, their unborn babies – with the specific, gentle care they need to thrive.
The Benefits of Prenatal Chiropractic Care
While pregnant, the female body undergoes rapid change. A pregnant woman's growing belly begin to affect her overall balance. As pregnancy progresses, her body further compensates for the added weight on her front side. This not only causes low back pain, but it lends itself to a variety of others symptoms, including mid-back back, headaches, and fatigue.
Chiropractic adjustments can be used to realign and rebalance the body, alleviating immediate discomfort and encouraging better health during pregnancy. It also promotes pelvic alignment, which allows the birth canal to open up and let the baby through with ease.
Throughout pregnancy, your body is shifting and your pelvis is opening to prepare for childbirth. This not only affects your health, but it also affects the growth and development of your baby.
If your body is aligned, it is likely that you will feel less stress, which means that your baby will also be more relaxed in utero. Similarly, if your body is in proper position, your baby will have optimal space to grow, develop, and move inside your body. It is this concept that often makes chiropractic care a good natural solution to breech presentation.
When you come in to see us, we will first discuss your current well-being and learn more about your pregnancy. We will then conduct a non-invasive physical examination to get a better idea of what we might be able to do to for you. To do this, our practice uses what is known as the Core Score test, which includes an electromyography (EMG) test, thermal scan, and heartrate variability (HRV) test. Please note that we do not perform X-ray imaging pregnant practice members.
Once we have a better understanding of your condition, we will move forward with your first chiropractic adjustment. Dr. Kirk is certified in the Webster Technique, a pregnancy-specific adjustment method. We offer pregnancy tables and pregnancy pillows to keep you comfortable while under care.
We Are Here for You
It is never too early to begin chiropractic care while pregnant. Kirk Chiropractic & Wellness Center sees expectant mothers from the first trimester all the way up to the day before delivery. Be sure to contact our practice for more information and to schedule your appointment. We look forward to hearing from you!
CONTACT US »
---
Pregnancy Chiropractor Owasso OK | (918) 272-6200